We've been making homeowners in Houston and its surrounding areas
satisfied and a sense of security for over 35 years. And believe we can do it for you!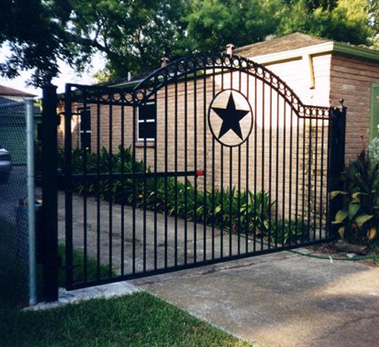 Why Invest in a Custom Security Fence?
There are many great reasons to choose a custom security fence.
Safety and security – While you could opt for a DIY kit or some other non-custom solution, but allowing us to help you in your project will give you peace of mind with our combined years of experience is looking after your best interest. Custom security fences are measured and planned to match the exact specifications of your property. Great craftsmanship helps ensures they remain sturdy and and long lasting.
Personalization – The gate is going to be the first thing visitors see. Why not add a bit of your personality? A bit of your own artistic flair? Let your guests know they're approaching a special place. Feel welcomed yourself, when you come back to a place that says "home" before you even make it into the driveway.
Increase property values – Custom fences and gates offer incredible curb appeal, increasing your home's resale value. Custom fences provide a much greater return on investment than standard fences.
Why Choose Custom Security Fence & Iron Works for your Residential Fencing Project?
Here's how we're different.


Superior craftsmanship – To the discerning eye, craftsmanship is the true measure of value. Your guests will see you live in a home of distinction from the moment they come to your door.

Dependable – You can expect our team to be prompt, professional, courteous and polite. You'll never have to worry whether we'll keep our promises.

Competitive prices – You deserve a cost-effective security solution.